The
VITA

-

LIFE

vSystem – Wellness in four dimensions

See and feel in this 2-minutes-video the VITA-LIFE vSystem and his four dimensions of wellbeeing.
Well-being in four dimensions
The VITA-LIFE vSystem is a completely new experience for body, mind, soul and senses. Four highly effective elements combine to produce immediately perceptible effects.
Wellness in four dimensions, well-being for all the senses.
Magnetic-Resonance-Stimulation
Vibration
Sound and Music
Colored Light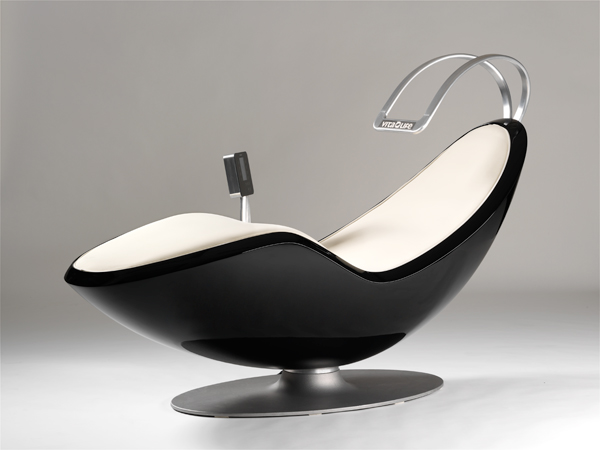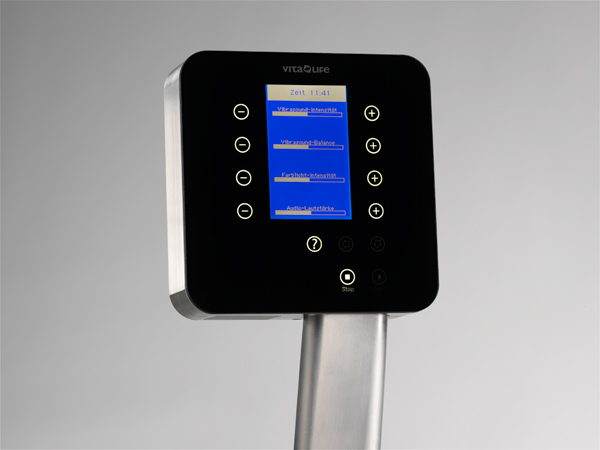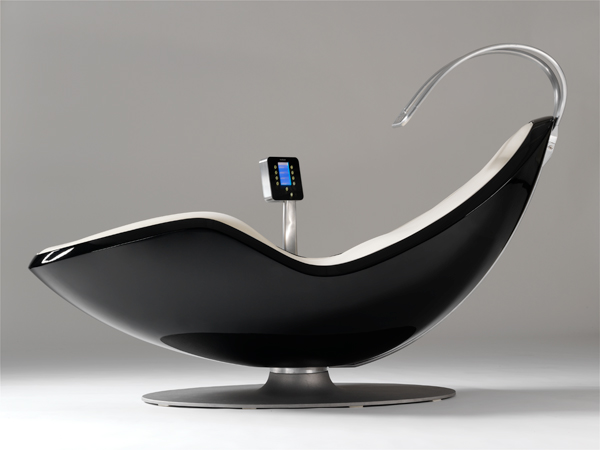 Magnetic-Resonance-Stimulation
New vitality through the power of pulsed electromagnetic fields
For long-term health
For a life full of appeal and attraction
Vibration – micro massage
Vibrating in line with the universe
Weighing into gentle vibration
Relaxing and opening to new ideas
Cloud of sounds – Sound and Music
Fill up yourself with new sounds
Bring your body to dance
Feel the harmony of the music balancing body and spirit
Simultations by coloured light
The incredible lightness of being
Surrounded by clear lights and stimulating colours
Weightless floating in shining waves of well-being
Fields of applications
The VITA-LIFE vSystem can be used for example to
Encourage relaxation and relieve the effects of stress
Stimulate the receptiveness of the senses
Activate all the body's functions through a stimulatingexperience
Promote health and boost overall performance andenergy levels
Enhance the general sense of well-being
Duration of one session: 16 minutes
Area of use
The icing on the cake for every SPA area
For the modern holiday guest an attractive wellness area has become the standard. In order to offer their customers a special highlight, AIDA Cruises or Falkensteiner Hotels rely on a wellness system of a special kind.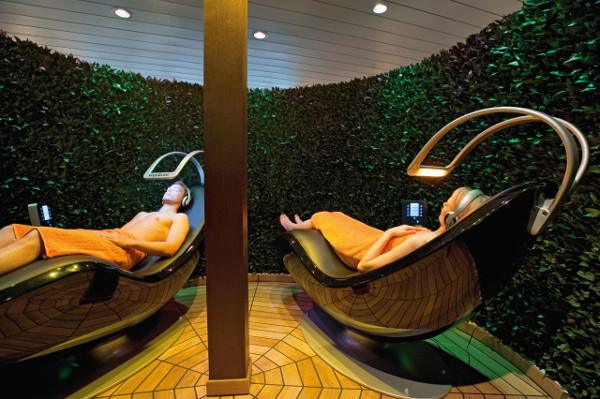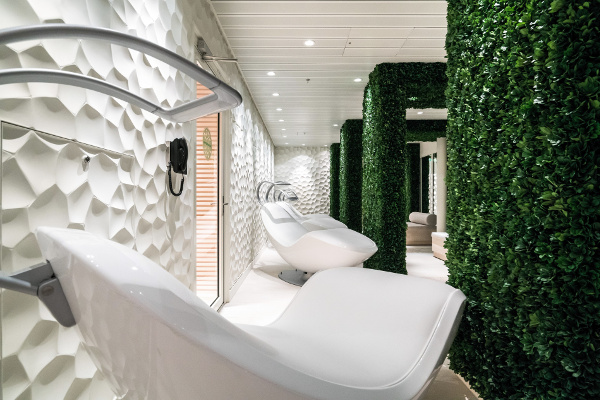 On board these ships of AIDA Cruises you can relax on VITA-LIFE vSystems:
AIDAblu
AIDAsol
AIDAmar
AIDAstella
AIDAprima
AIDAperla
AIDAnova (from December 2018)
Even in places where customer traffic prevails and whose waiting time is to be shortened pleasantly, the vSystem is best used.
Your experience
Simply lie back on the elegantly designed, ergonomic couch and select the programme you want.
Feel the gentle vibrations massage and relax your body.
Coloured light and relaxing sounds immerse you in a world where well-being is paramount.
In just a few minutes you'll be transported far away from the noise and stress of everyday life.
You'll feel how the coloured light, sound, vibration and magnetic field combine to create a relaxing and revitalising effect on body and mind.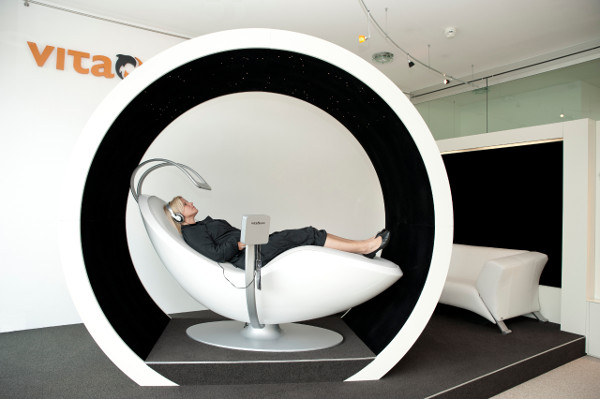 When you stand up again after a 16-minute session you'll feel wonderfully relaxed and incredibly refreshed.
All your senses have just experienced total well-being.
It's an experience that many people can no longer do without.
For them, using the VITA-LIFE vSystem has become a routine that helps them find calm and relaxation, deal with the stresses of everyday life and make a lasting difference to their health.
Technical data
Programs
highly stimulating
stimulating
calming
relaxing
Dimensions
Length: approx. 215 cm
Width: approx 100 cm
Hight: approx. 130 cm
Weight: approx. 95 kg
Materials in standard version:
Body: lacquered; cast metal base
Liegefläche: Couch surface: special durable material (black)) that adapts to the body shape
Bedienelement: Control panel: aluminium tube design, screwed on to base, control panel with black glass surface and blue background lighting
Special versionsavailable (colour) on request.
Certification
Certified in accordance with international guidelines (

IECEE

-CE)
89/336/

EWG
Awards
International Five Star Diamond Award 2008, 2009 und 2010
Awarded by the "The American Academy of Hospitality Sciences"
Beside hospitality, quality and service dominates the commitment creating something very special – be it a five-stars-resort on a lonely island or an extraordinary wellness experience…
The commitment to excellence and the passion for achieving the extraordinary unites all Five Star Award achievers from Hotel Kempinski to Donald Trump, from Lavazza to VITA-LIFE.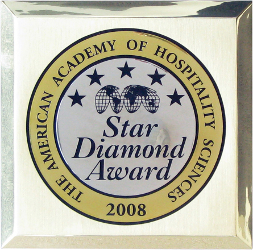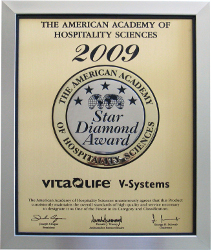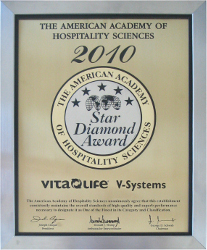 SENSES

-Award 2009

Every year at the same time when also the ITB takes place, the SENSES Wellness Award for the best spa oasis of luxury hotels is awarded. The International Award has established itself over the past decade into an internationally recognized seal of quality for the wellness industry. So it happened that the gala performance 2009 at the historic Bear Hall of the Old Town House (seat of the minister of interior) in Berlin-Mitte celebrated its lavish party with about 700 hand-selected guests from around the world.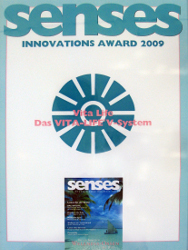 Wellness in four dimensions also in your company?
For further information call us or us our contact form
Tel.: +43(0)4274 4499
(Monday to Friday from 08:30 to 12:00)